This past week, we stepped aboard the sailboat Narin Thip at Bophut beach in Koh Samui, and spent 4 days sailing her around the nearby islands of Koh Phangan and Koh Tao.
This was a journey that began several months back and very much by chance, when the boat's owner, Steve, made some random postings in the Koh Chang Talk Facebook group. At the time we were marooned on Koh Chang, an island quite far from Samui, in the midst of COVID-19 lockdowns. I'd long sought to learn to sail, and have long been weighing the idea of living aboard a boat full-time, so sent Steve a message and asked about arranging a multi-day charter. At the time he had to decline because the island's authorities would not let him anywhere near the shore.
Many months later, with the lockdowns a distant memory, we found ourselves on the island of Koh Samui, where Sanya has family. I happened to notice, in passing, on the Mandala Sailing Instagram, that Steve had found his way to Koh Tao, an island very near to where we were. I sent him another message about charter, and this time everything came together perfectly.
Within days we were stepping aboard the Narin Thip.
Day 1: Samui to Koh Phangan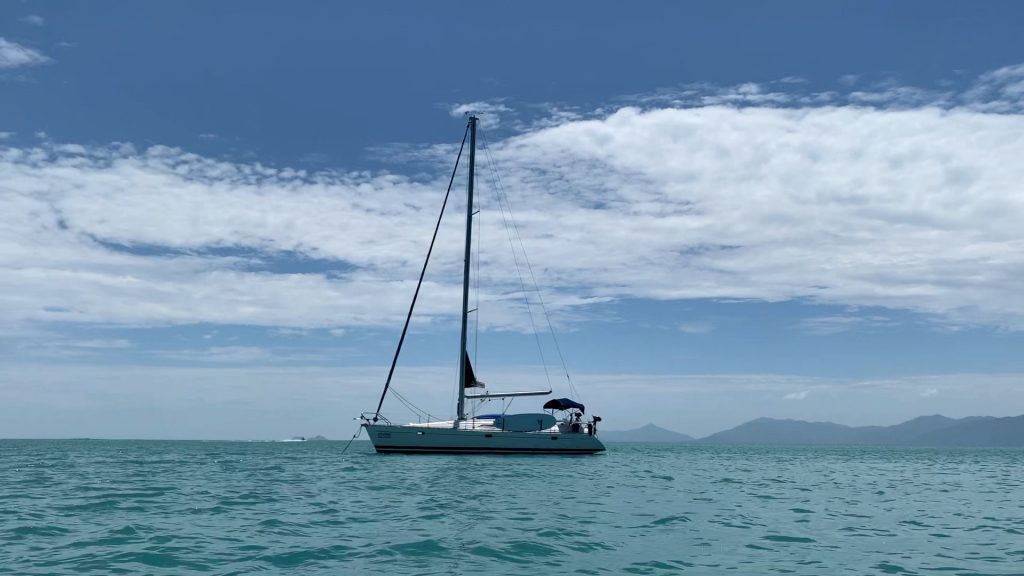 We departed Koh Samui around 12:30pm on July 1st and pointed the Narin Thip at Koh Phangan, a straight shot about 25km (13.5 nautical miles) to the north. Winds were fair at 8-10 knots and we made the whole trip under sail. We arrived at Thong Nai Pan Yai Beach, on the northeast side of Koh Phangan, around 4pm and dropped anchor.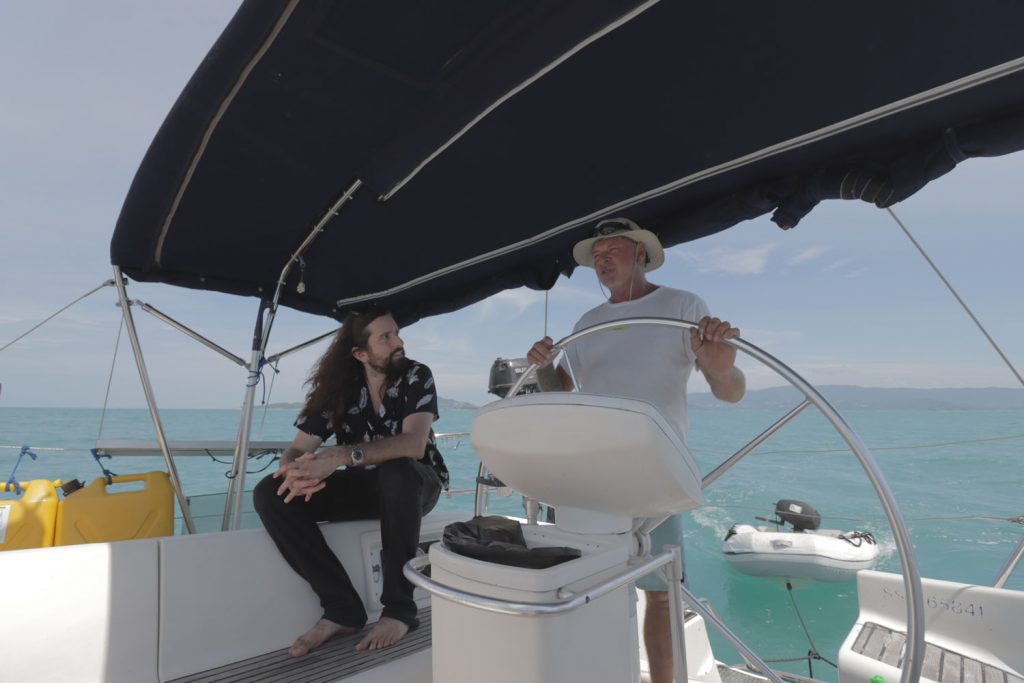 One lesson we learned is that weather is critical in dictating where you can drop anchor at a given time, and this particular anchorage, because of its position on the island, provides good shelter in the current season. We took the dinghy to shore and spent the evening making friends with expats from the area (all of whom knew Steve well) at Flip Flop, a cozy and unpretentious beach bar far off (both in location and spirit) from the psychedelia and rave culture that Koh Phangan is famous for.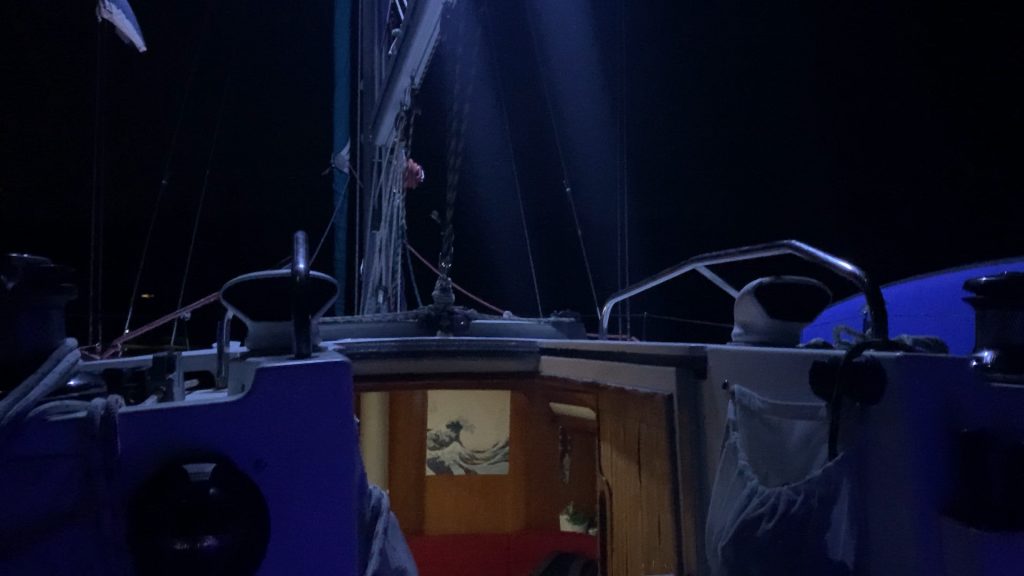 In the evening, we took the Dinghy back out to the anchorage to spend our first night on the Narin Thip.
Day 2: Arriving in Koh Tao
Waking up around 8am in the calm of our Koh Phangan anchorage was magical. Steve had strung up a hammock between the mast and the forestay of the boat, and I reclined in it for half an hour, taking in the sound of the birds, of water lapping on the hull, of trees rustling onshore. About an hour later, we lifted anchor and were on our way to Koh Tao.
Koh Tao is the smallest of the 3 islands in the chain. Its clear blue waters and abundant sealife have made it an extremely popular scuba diving destination. After about 4 hours of mostly motoring under gray skies and through heavy swells, we arrived at Hin Wong Bay in Koh Tao. By the time we dropped anchor the skies had cleared up and Sanya and I jumped in the water to see the sealife that the island is famous for.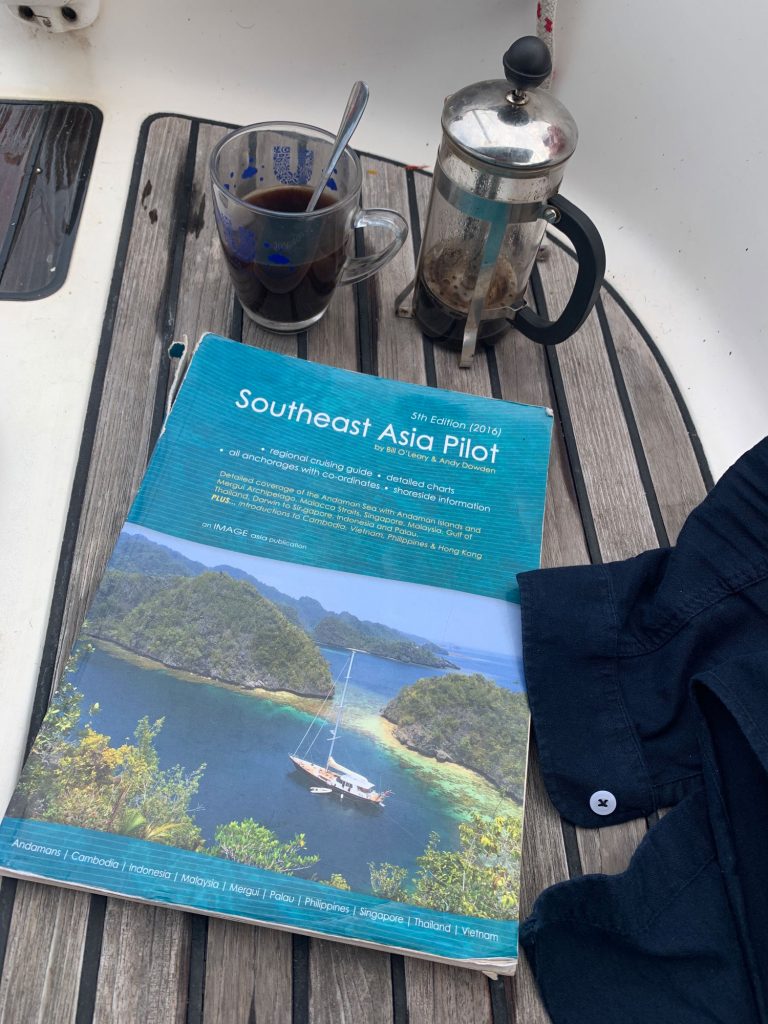 The water is a deep blue that almost looks artificial (like somebody dumped buckets of blue food coloring in the bay), but the color is actually caused by the natural plankton which is a part of the ecosystem. That as diverse a sealife as we saw that day, even just swimming within a hundred yards of our boat, can exist naturally in one place is stunning. Snorkeling off of Hin Wong Bay was truly like jumping into the tank at an aquarium.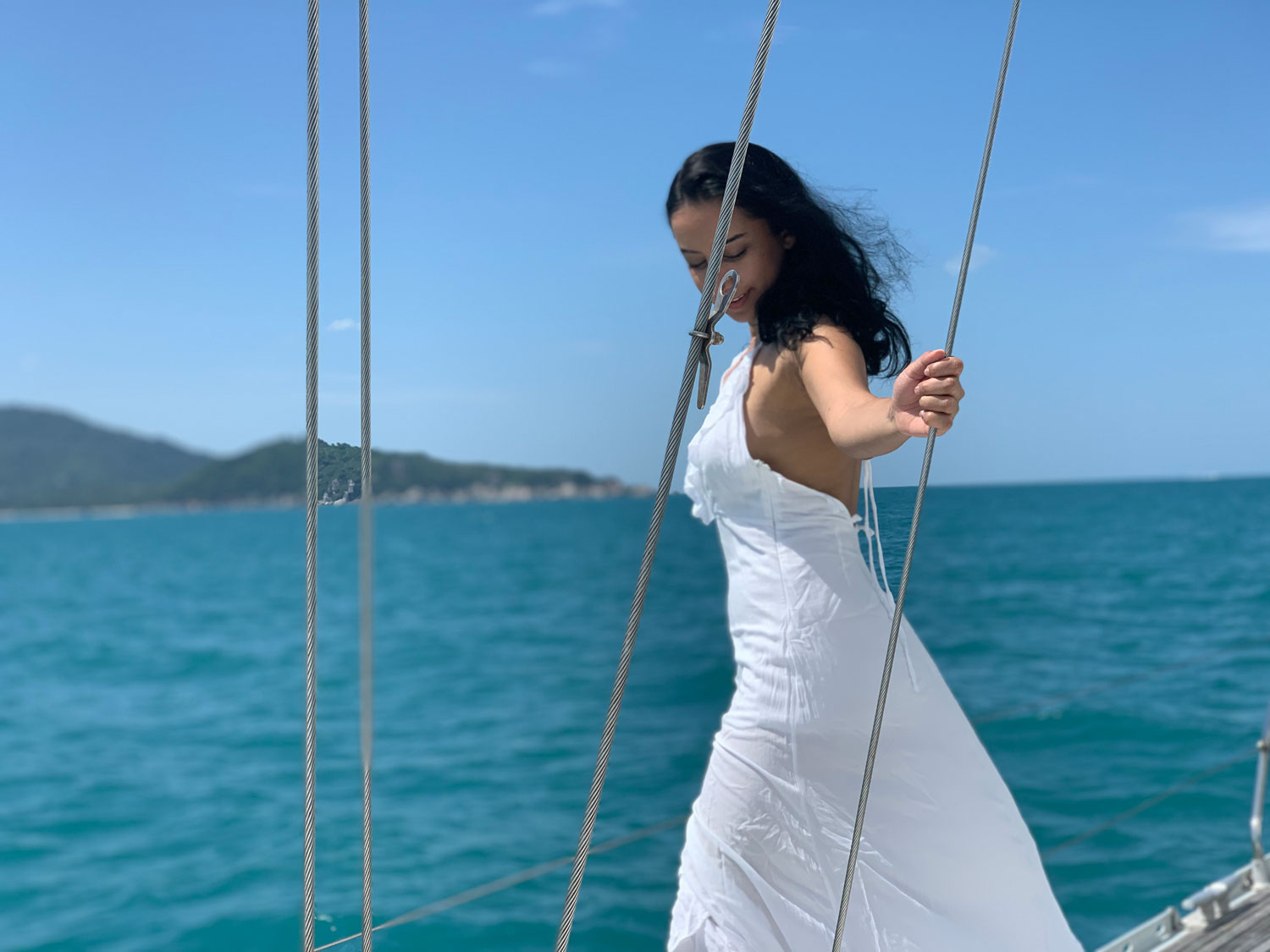 After our snorkel, we washed ourselves up with the "stern shower" (a handheld shower that you can use while standing on the rear deck of the boat) and went to shore. We had a great Thai dinner at the sole restaurant on the beach, a simple family-run place overlooking the bay. After finishing the meal we strolled a few dozen yards over to the little Tiki bar next door for sundown drinks.
As we walked up to the bar (Mol's Beach Bar), we were greeted by the owner, Mol, whose family goes back several generations on the island, and who owns the entire cove in which we were anchored. Mol, together with a friendly young German named Chris, was burning some dry coconut shells in a fire pit to drive the mosquitos away.
Over the next several hours, we were introduced to more of her extended family, and had a great time trading stories and laughing over some drinks and good music in the quiet bay.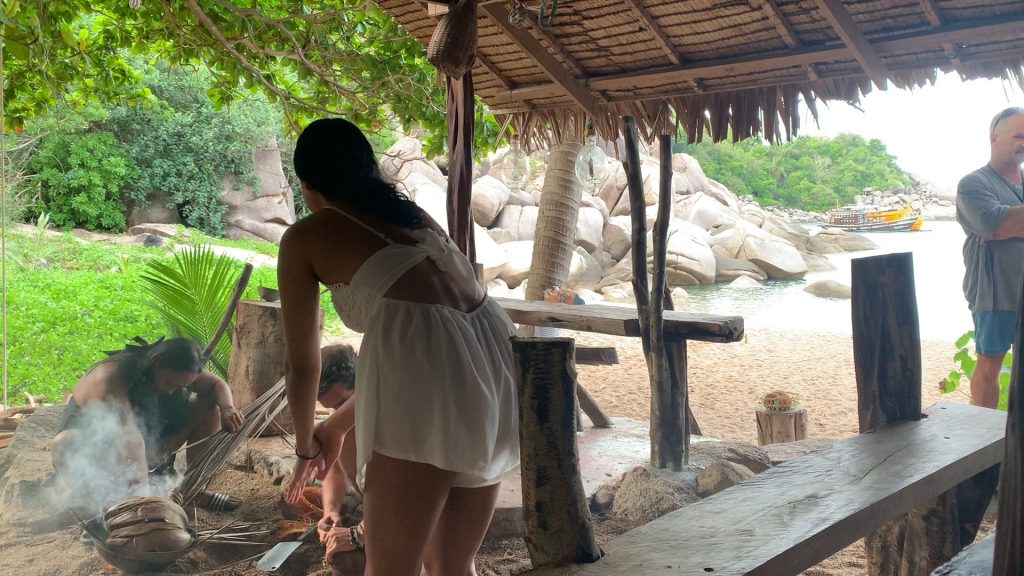 Day 3: Circling Koh Tao and learning to sail
Sanya spent the following morning snorkeling as I sat around drinking coffee and reading about sailing in Southeast Asia. Meanwhile Steve went into town to pick up some diesel and provisions for the boat.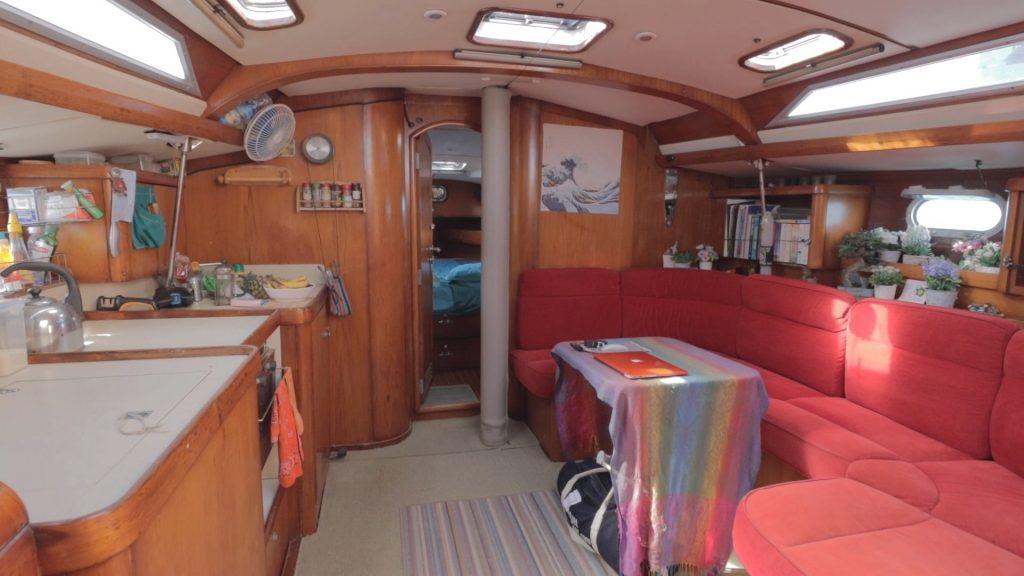 We lifted anchor around 12pm and went off to circle the island. Our original plan had been to sail to Ang Thong National Park but it hadn't yet opened for the season so we had to improvise and change course.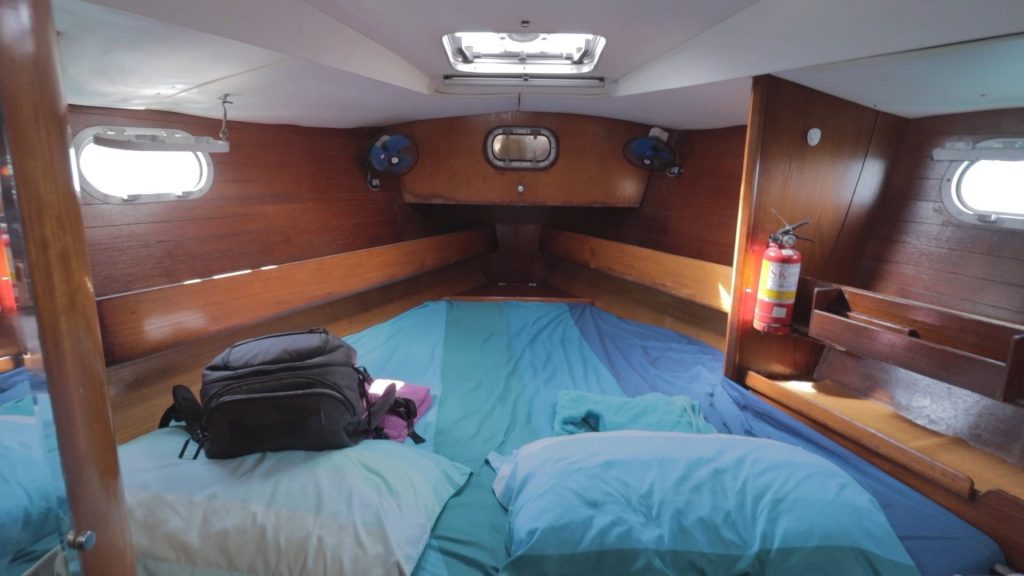 It was ultimately a blessing, as this ended up being the day that we were given the lines and got our first proper training in sailing. The first hour or so we had very harsh weather (35 knot winds). We had to go under "bare poles" (drop all sails) and motor to outrun it. Steve let me behind the helm at this time and I got my first sense of what it is like to steer a 42 foot yacht through difficult weather (spoiler: not actually as difficult as you would think. It is more a matter of being alert and keeping a steady heading than anything physically straining).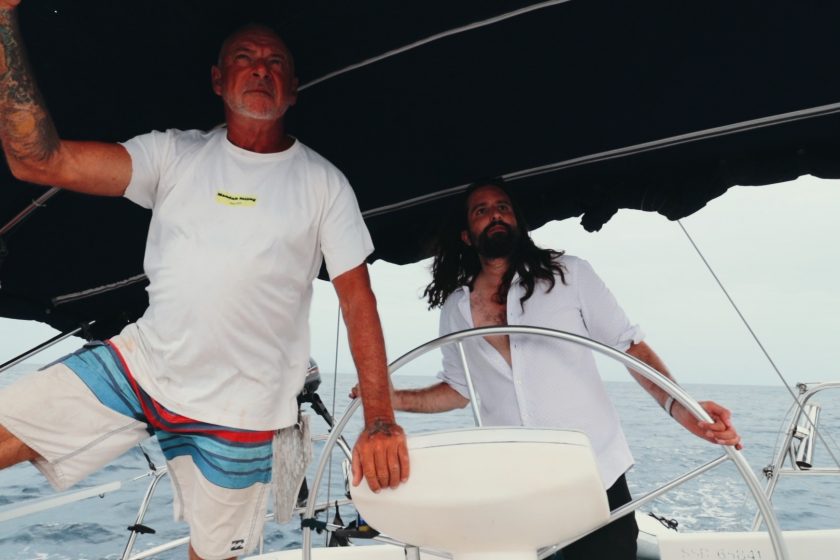 As we came around to the west side of the island, the winds became fair and the sea docile. At this point Steve let us put up the sails. We learned about wind (reading the wind indicator and "tell-tales" – little strips of fabric at different levels along the sail that let you know how it is catching the wind), how to trim the sails, the optimal angle of heel (10° for our particular boat) and how to steer under sail. We sailed for the next several hours off the coast of Koh Tao until it was approaching 5pm, at which point we headed back to Hin Wong Bay to anchor for the night.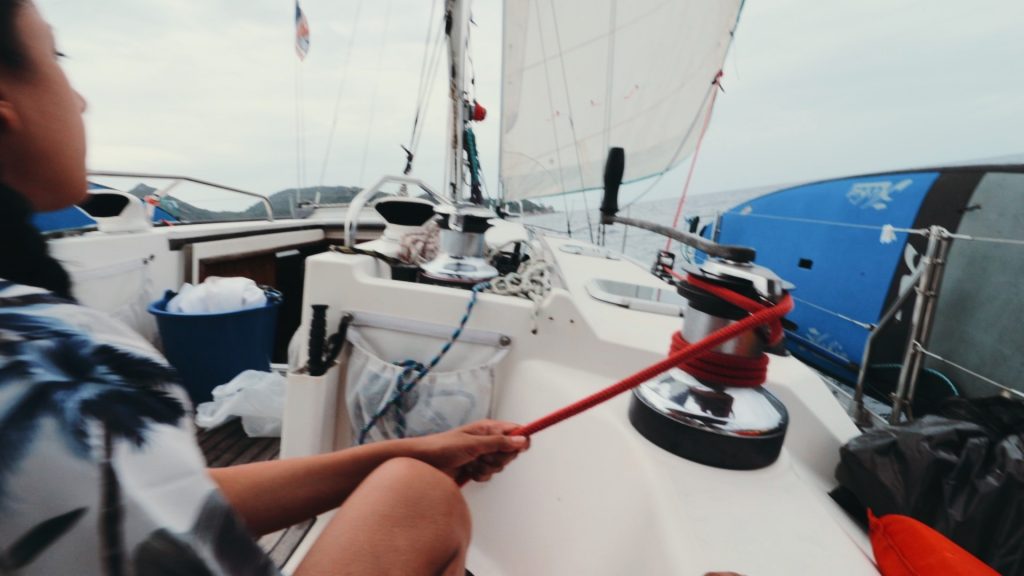 Day 4: Heading back to Koh Samui, via Koh Phangan
Steve knew that the journey back to Koh Samui was going to be a long one, and so insisted on lifting anchor at 7am. He let Sanya and I sleep for another couple of hours in our cabin below decks while we got underway, and by the time we awoke around 9am we were halfway to Koh Phangan. The wind was dead at around 2 knots and so we spent the time under motor. With the dead winds also came beautiful, calm, glassy waters, and I spent a lot of the trip up at the bow, appreciating our surroundings.
At around 11am we arrived at a quiet little cove on Koh Phangan called Haad Than Sadet. We were the only boat anchored there, and after a quick swim we took the dinghy to shore and headed to a little beachfront restaurant adjoined to some bungalows called "Mai Pen Rai" (Thai for "No Worries").
The vibe at Mai Pen Rai was something more in line with the Koh Phangan stereotype: all white, foreign clientele, clad in sarongs, with eastern tattoos and dreadlocks. The vibe was still funky: simple food, rasta stripe motif, a statue of Ganesh, thatched ceiling decorated with sea-shells and a pet pig (who we were told is fed a strict vegan diet) wandering freely among the patrons.
After eating our simple Thai lunch and taking another swim in the bay, we pointed the Narin Thip back towards Samui, and our normal life ashore.
We left Koh Phangan under motor in near-still, 2 knot winds with a placid sea. The sun eventually came out for us and the last few hours of our journey back to Samui were beautiful, reflective and even a bit emotional.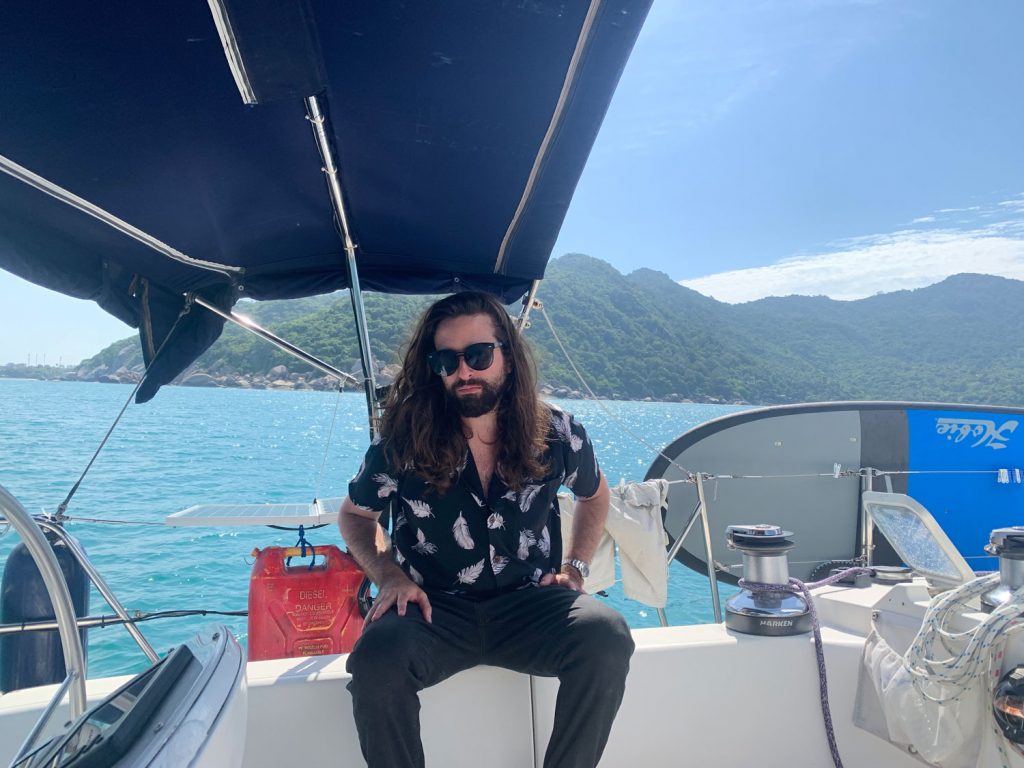 We arrived back at the Bophut anchorage in Samui and, over a few trips back and forth on the dinghy, ferried our luggage to shore and into a rental car that we'd ordered from the local agency. Once we had everything sorted there, we went to join up with Steve for a farewell dinner and drinks at The Frog and Gecko, a cozy beachside pub that's popular among cruisers. For the next 3 hours or so, we traded stories and learned of a very different Thailand and Southeast Asia: the one Steve had first come to in the early 1980s, and had seen evolve through the decades. He told us stories of a place both beautiful and lawless; an adventuresome and different life. It was a perfect conclusion to our trip aboard the Narin Thip.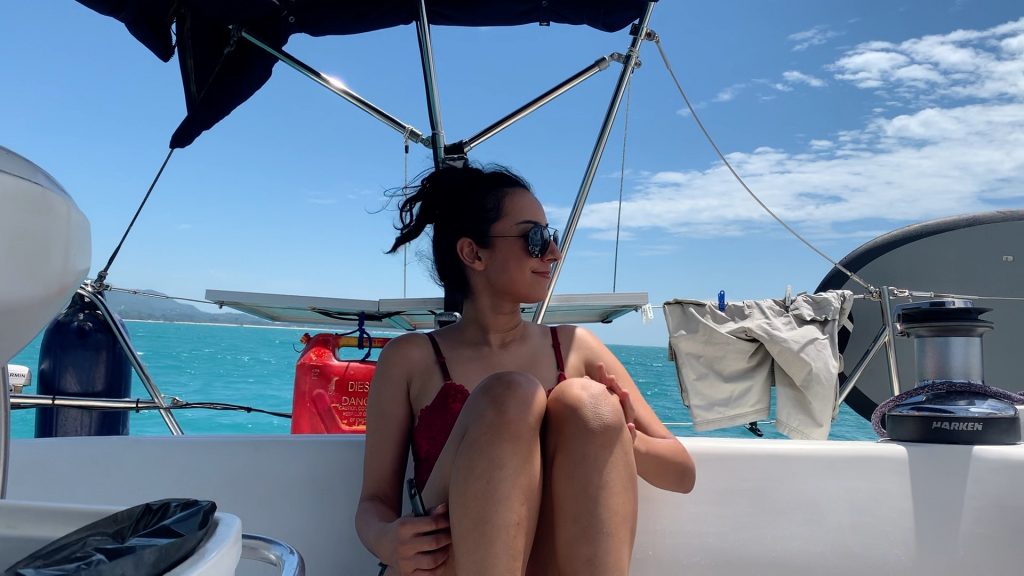 Lessons learned
Part of the reason that we arranged to charter with Steve and Mandala was because we are considering moving aboard a cruising boat of our own at some point down the line. Stepping aboard for a skippered charter like this is, in my opinion, one of the smartest things you can do if you are considering doing the same. Seeing what life is really like living full-time on a boat, learning the basics of sailing, of maintenance, sailing etiquette, etc. is, in my opinion, critical to understanding what may matter to you, and how you might manage the life.
For our own purposes, our next step is going to be to enroll in a local IYT certified "Zero to Hero" program for a "Bareboat Skipper Certificate", which will allow us to charter boats alone, to try out different types of boats (catamarans, monohulls, different makes) and cruising grounds, and discover what matters most to us to begin and sustain a cruising lifestyle. We are looking forward to this chapter with excitement and anticipation, but also will never forget and will always be grateful for our time with Steve aboard the Narin Thip.