I just wrapped up my month with Hacker Paradise in Chiang Mai, Thailand and have settled into my accommodation in Ko Lanta. I had done a post a month ago when I'd just arrived detailing my first impressions of the place and figure I should do a retrospective post now that I've spent quite a bit more time in the city. I loved Chiang Mai, and hope to return in the future. That said, I wanted to highlight both the good and the bad, to try and give people an accurate picture of what it is really like to live there for a month.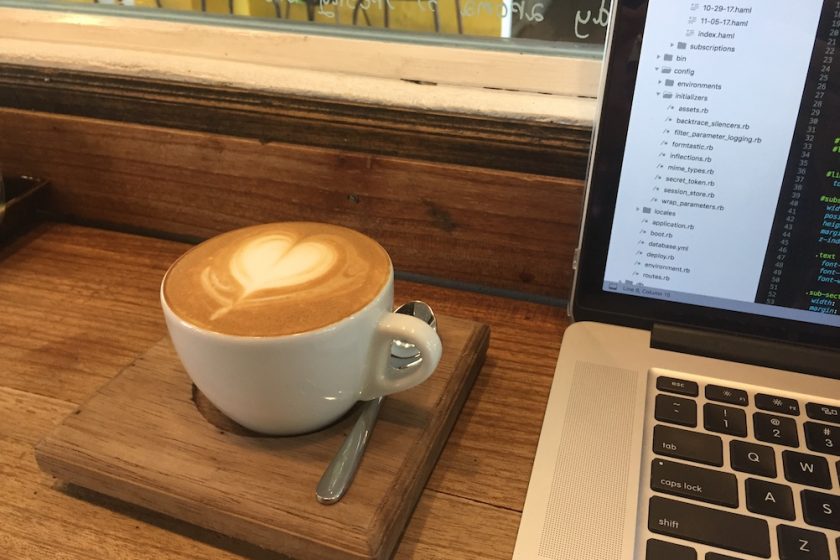 The Bad
The Nightlife
Chiang Mai is not an easy city for night owls. Legally, the closing time for bars is midnight. Coming from Berlin, and being a night owl (I often work late into the evening and only go out around 10 or 11pm) this is tough. This doesn't just concern bars. Even if you just want a snack, from about 3am onward your only option is 7-Eleven. Most brick and mortar restaurants close around 10pm. Some street food stalls on particularly busy stretches like Nimmanhaemin Road and the Hussadhisawee Road food stalls will stay open til 2 or 3am but if you're not living near these places you'll be out of luck trying to grab a bite after midnight.
There are a small handful of after hours bars. I'm not sure whether these operate totally illegally or via some loophole like the pub lock-in laws of Ireland/UK. You'll quickly learn about these bars when you're here. Spicy is a very popular one and awful. The crowd is almost exclusively western party people/bros and Thai ladies of the night. They have live DJ sets of electronic music.
The Living Room is a small bar, also with loud electronic music and what I can only describe as "de-facto moshing", because it's reliably packed so far beyond capacity that you have no choice but to sort of wobble back and forth with the crowd. There is also Sound Up (formerly Mandalay) which feels like a full-blown Vegas-style night club, with laser lightshow, big LCD wall coverings and a deafening sound system. Sound Up can be fun but it is not the sort of place you can hang out casually on a nightly basis.
The best after hours spot I found by far was Black Door. It's probably the closest thing to the low key places I liked to hang out in in Berlin and New York. The owner is both very present and very friendly. The after hours lock-in is unfortunately inconsistent (sometimes the bar just closes). I gather this is because it's a small operation, and sometimes it's just not worth it to stay open.
The Bros
I'm not sure how to frame this in a diplomatic way. The bro culture is strong in Chiang Mai. My best guess, based on lots of exchanges with these bros, is that this has to do with internet marketing types who have popularized a certain image of the lifestyle in Chiang Mai. More specifically, people who blog in areas of fitness/martial arts (including Muy Thai) and ecommerce/affiliate marketing seem to frame Chiang Mai as a place you can come to get fit, pick up Thai women, and live like a king on a meager budget. When I meet these people in bars, a lot of them remind me of the people that can be found – and who I would try to avoid – in certain pockets of New York (such as in Murray Hill, or at sports bars like Finnerty's or Pour House in the East Village).
I think by far the worst part about this subset of the population in Chiang Mai is how conspicuous they make themselves. It often feels disrespectful and unseemly to me, because it doesn't feel like they are appreciating the local people in their midst or recognizing their comparative hardship. You can be in Chiang Mai, appreciate the low cost of living, great cafes, etc. while still making yourself relatively inconspicuous and not distracting all the locals who couldn't care less with loud talk of your business.
The beer
If you like beer you are really in trouble here. Unless for some reason you love Thai beer. 90% of the places you go will have the exact same beer menu of Chang, Leo and Singha (usually around 90THB for a large 600ml bottle). They're all pretty terrible by a US/European standard. There are a few specialty beer bars with imported beers. I went to Beer Republic in Nimman, which was good, but even the cheapest of the imported beers are around 290 THB (~$9 USD) at which price I can only justify one or two at most.
The sex trade/creepy old men
This is an unpleasant subject but worth a mention since you are in its midst often in Chiang Mai. There is prostitution in the form of "bar girls", erotic massage parlors and even traditional brothels in a lot of pockets of the city. Go over to Loi Kroh Road in the evening and you will be called every few meters by groups of bar girls.
In addition to the sex workers themselves, there are of course the hordes of western tourists ("sexpats"?) who keep the trade afloat. Furthermore, there are a lot of very old western men with very young Thai wives. This certainly isn't the same thing, but is unseemly to me in its own way.
Isolation of communities
Even though it is easy to achieve whatever you need to achieve through the language barrier (most Thai people that you will interact with will have good basic English), the Thai and the western communities are very palpably separate. Oftentimes you feel like a curiosity and an outsider. To be clear, you will never be treated negatively or abrasively (at least I wasn't in my 4 weeks here), you just feel separate – and more than this, that there is no real interest (on either side) to see any assimilation.
The Good
Cost
I think broad cost of living is the main reason Chiang Mai is becoming such a popular hub for remote workers. Nice, western-style condominiums can be had for $600 or less. If you eat Thai food at local places, it can be as cheap as around 35 THB (~$1 USD) and even if you don't try to watch your spending it's easy to eat for around $2-4 USD. If you are trying to bootstrap a business and want to live a comfortable and undistracted lifestyle for a few months, Chiang Mai is a very appealing place.
Infrastructure
The infrastructure critical to tech work (internet, coworking) is good in Chiang Mai. Certain other infrastructure (roads, air quality, sidewalks, general quality of construction) actually aren't up to western standards I would say, but these are less important if you are just trying to bootstrap a business and have your basic needs/distractions taken care of.
Cafes
Cafes in Chiang Mai are world class. Places like Akha Ama will serve you coffee made of regionally-grown beans roasted in-house. I ran into Pok Pok's Andy Ricker at Akha Ama, which I feel is quite an endorsement. Believe it or not, when I go back to Europe and New York, I will miss the superior quality of the coffee and the cafes in Chiang Mai.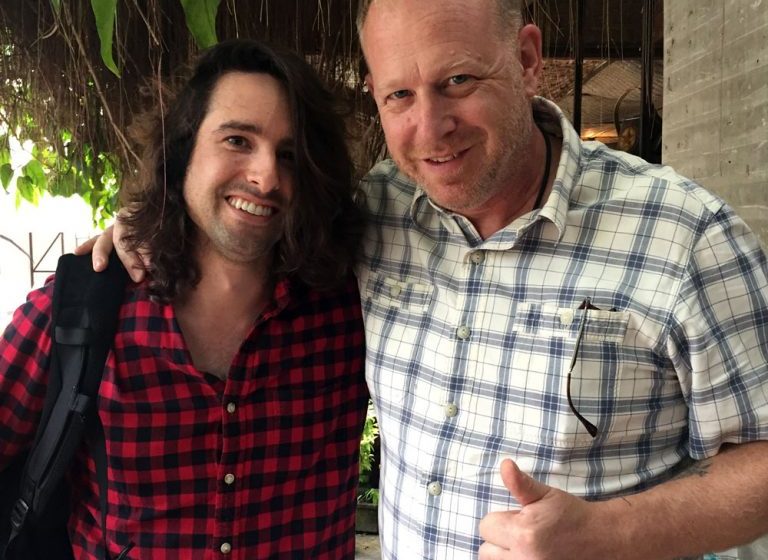 Food
You can get fantastic food, both Thai and western, in Chiang Mai. I already miss my several Khao Soi spots and Cherng Doi Chicken. The food, both in respects of quality and price, is certainly something to recommend Chiang Mai.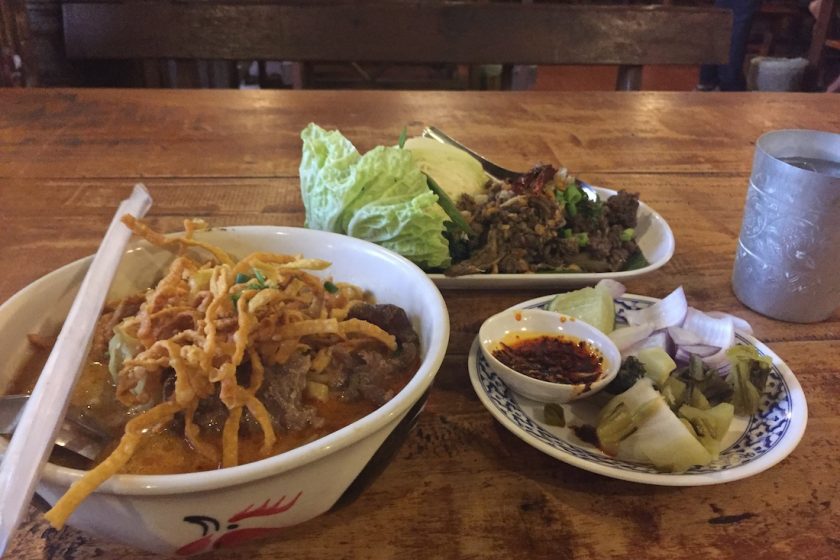 The people
I talked a lot about this in my first post but even after a whole month in Chiang Mai the people continued to be awesome. All the local Thai people I dealt with were friendly and cool. It's been one of the highlights of my time in Chiang Mai.
Conclusion
I plan to go back to Chiang Mai at some point in the future. It is a fantastic place to get work done, with a great local population and a very reasonable cost of living. Beyond a month I would get a little bored with the relative lack of a nightlife, so for me, I'd say it would be a nice place for about one month of focused work within the year. Perhaps if you have different tastes or priorities (such as a preference for a small town/small city lifestyle) it would seem plenty stimulating and worth a longer stay.