Through the last year, the city of Chiang Mai, Thailand has become one of the main bases of my life in Asia. It actually took a while for the city to grow on me. If you read my retrospective article from my first visit here in 2017, I am actually kind of lukewarm on the city. There is a reason – one month is not enough time to learn what is truly great about the place. I have spent, collectively, a lot more time than that here now and I still feel like I have so much more to learn. There are many different sides of the city: from backpacker ghettos to tranquil natural sites, some of the best meals you can have in the world, in some of the best company, to also some true debauchery and darkness, that is still beautiful in its own way.
In all of my traveling, dive bars have been one of the essential ways to get at the soul of a place. Here are what are in my opinion some of the very best in Chiang Mai.
Small House Kafe

On a quiet corner, up a small alley from Huay Kaew Road, sits Small House Kafe. With an atmosphere something halfway between a shabby residential living room and a cozy college dive, Small House is, in a word, comfortable. There is a long bar lined with traditional stools, where you can have a chat with an old friend or meet a new one. At the end of the bar is a group of worn couches, and outside a big open patio with a few dozen loosely arranged chairs and tables. A worn pool table sitting under the eave at the front of the bar is known for its idiosyncrasies – awkward size, ripped felt, a lean. Master it and you will be useless on any other.
Over the years I've become friends with Dao and Chris, the couple that own the bar, and have learned a history that put Small House's palpable soul so much more into focus. As Dao explained to me, she started the bar herself in the early 2000s as a coffee shop. She sold far more beer than coffee and before too long it was just a bar, but the name stayed. Chris, an American born in California who moved to Chiang Mai age 14 due to his dad's work, was just a patron. As he explained to me he eventually had the courage to ask Dao out. They've been married for over a decade now with a kid, and the bar is so much a reflection of them – the family dog lays around on the floor, photos and artifacts of their life, history and friends adorn every wall and surface.
Black Door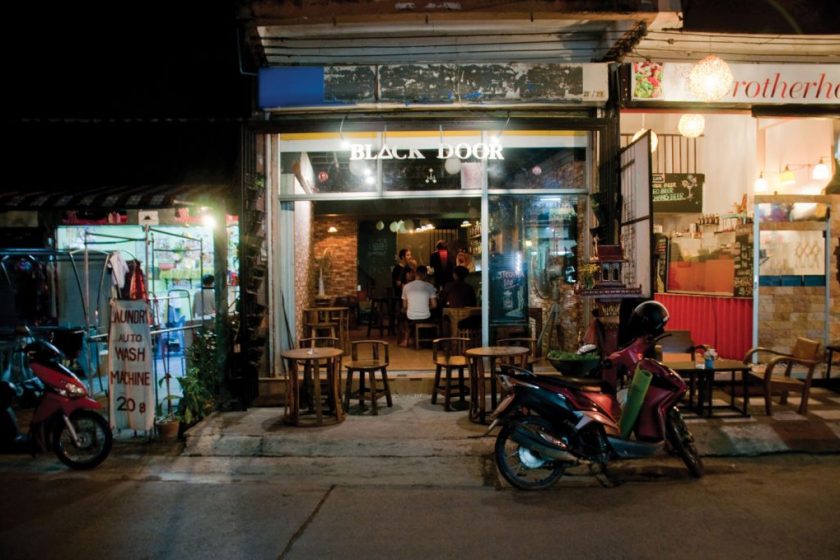 If Small House Kafe is my happy place, Black Door is my dark place. Black Door inhabits a simple storefront on a side street in the Santitham neighborhood, a somewhat seedy part of town known for, among other things, having a bunch of brothels catering to Thai men. With a small L-shaped bar and just a few scattered tables, Black Door is set up to be a social atmosphere, whether you are alone or with a group. Black Door's owner, a 25 year old local with a very unplaceable English-like accent who goes by the name "Boy" will make you feel welcome from your first visit.
Black Door is also one of those places that all too regularly becomes a black hole. At midnight the metal awning comes down like an Irish lock-in and the atmosphere becomes far more communal – more private party than bar, but a private party that you know is there tempting you 7 nights a week. Some hours later you look at your watch under the dark red bordello-style lighting and it's 4am, you realize that every single time Boy and the bar staff cheerfully offered that you "have a shot" you obliged, and you stumble out in a haze to take a Grab home – a perfectly walkable distance but not in this condition. Worse yet maybe your judgement is impaired enough that you direct the driver instead to Bada Boom (more on that later).
Oasis Rooftop Garden Bar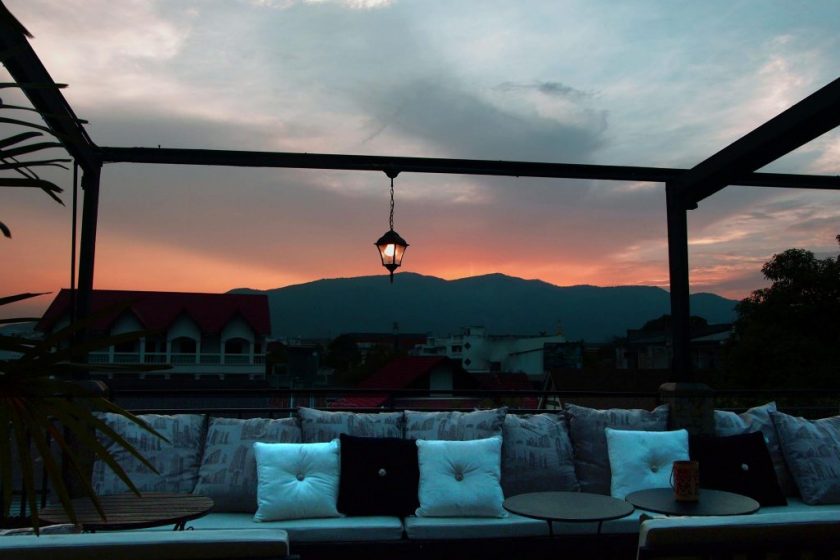 Oasis Rooftop Garden bar, situated in the northeast corner of the old city, is a place I would never have discovered if not for my girlfriend, a native of Chiang Mai who's been a regular patron for years. The first time I heard the name I expected some upscale nightclub atop a high-rise hotel. In a respect the name is a little misleading – while Oasis is a rooftop bar, it sits atop just a small, three-floor building. Walk up the (somewhat steep, treacherous – especially going on a few drinks) concrete steps and through a small archway and you are greeted by a large patio. The bar itself is quite small – maybe 4 or 5 stools. The majority of the space is taken up by chairs and couches. Oasis is homey, with an attentive and family-like Thai staff. Even though the building isn't too tall, there is a beautiful view of Doi Suthep mountain, and it's a wonderful place to watch the sunset with friends over a beer or cocktail.
Soldier Bar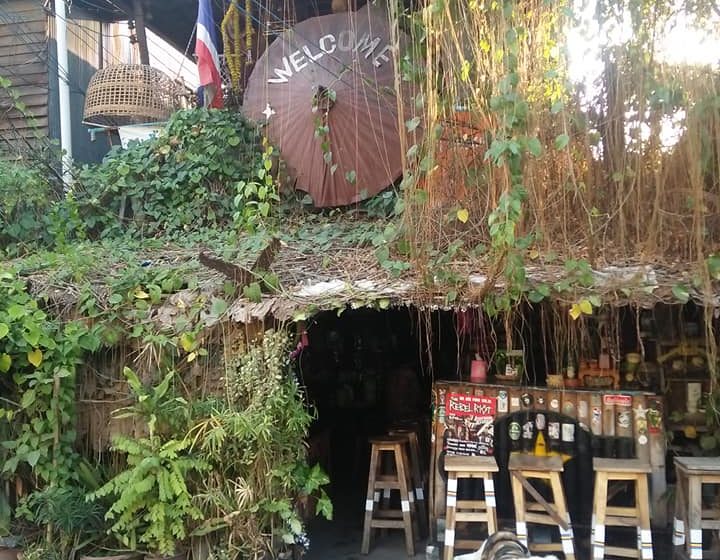 Step into Soldier Bar and you'll feel you've stepped into a fever dream of Vietnam-era Southeast Asia. A few bamboo bar stools peek out at the street through palm branches and christmas lights in a storefront just a few meters wide. Other than that there is no indication that this place exists…because maybe it doesn't? – Soldier Bar, as far as me or my friends have ever been able to tell, is actually the home of its owner and his roommates. In the bathroom you'll find freshly-used toothbrushes and shampoo hung from the wall beside the bar of soap for the patrons.
Though on first impression the scene is foreboding – walls cluttered with photos and relics from the owner's military career, inscrutable gazes from local patrons halfway through their third double Hong Thong or Sangsom whiskey – you'll generally be treated well at Soldier Bar. The owner, styling himself unironically like Rambo (tank top, narrow bandana about the head) offers up cheap Changs, Leos and local whiskeys. Invest enough time and you might look up to find a double shot of Lao Khao (Thai moonshine of indeterminate strength, often coming from the hills around Chiang Mai) sitting in front of you, on the house. Soldier Bar tends to close early (around 11:30pm) but when it does Chill Out Bar (more on that further down) is a short jaunt away on foot and typically open a few more hours.
Bada Boom
"Nothing good ever happens at Bada Boom" – so goes the refrain. If you've made it to Bada Boom, you really should have gone home already. From the outside, Bada Boom is completely indistinguishable from the neighboring residential buildings in its corner of the old city near to Loi Kroh road. There is no sign. There is no crowd loitering out front, there is no indication of anything at all. Most significant of all, there is no noise – the building seems to be double-walled and completely sound-proofed.
That's because within is the closest thing I have yet found in spirit to a prohibition-era speakeasy anywhere in the world. The space is nothing more than a small room, set up around a pool table. There is a small bar at one end, and a few booths and tables along the remaining 3 walls. I don't know what the official hours are because I think there are none, but I do know I have come once at 1AM to find it still not yet opened. However, come around 2AM, give the knock, and you'll find a surreal scene – ladyboys, veterans, hookers, backpackers trading stories or playing pool – a party that continues on until 10am the next day.
Chillout Bar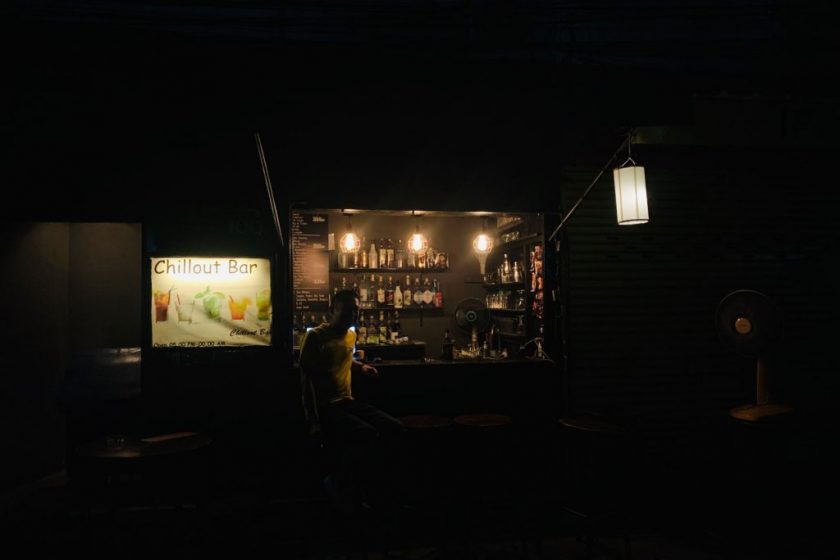 I don't think any place I've been in the world so embodies the phrase "hole in the wall bar" as does Chillout Bar. Just off Mun Mueang Road (the road along the moat) in the Northeast corner of the Old City, this bar is literally a hatch cut out of the wall of a one-story building. There's just a couple of stools and a couple of tables, and the owner, Jassadaporn, is there manning the place seven nights a week, sometimes to as late as 4am.
Chillout Bar is also noteworthy to me (and everybody I have ever brought) for another reason: it is, without question, the heaviest pour in Chiang Mai. By that I mean that if you order a gin and tonic, unless you demand otherwise, it will be poured at least 2/3rds gin – incomprehensible but true. The owner is friendly and the crowd diverse – you are as likely to find yourself seated beside a Thai lawyer or a local college student as beside a couple of old French retirees or young backpackers. If you find yourself in the old city, and especially if it's past midnight and you're not yet ready to call it a night, Chillout Bar it is always worth a stop.