For the last several years, I have been traveling full time. It is something that changed my life and that I wouldn't trade for anything. But with it also come challenges. There is a burden in starting over again and again every several months – figuring out a new city, developing new friendships (though I am lucky enough to be able to reconnect often with many of my friends around the world thanks to communities like Hacker Paradise and Nomadlist), finding a productive work environment, and also the more basic things like just getting phone service and figuring out transit, etc.
Of all of the places that I travel to, I continue to return to Asia as a primary home. Any other foreign passport-holder like myself living this lifestyle will tell you about the instinctive need for a de-facto home. Some place you can go to (in the part of the world you wish to live) that you always know you will be welcome, where you'll never worry if you've made one too many border runs, and where you can set up some roots, even if you plan to continue traveling a lot of the time.
Spend enough time in expat circles in Thailand and you will learn about the various options for staying here long term. These include the Education (ED) Visa, Business Visa, Investment Visa, Marriage Visa (for those married to a Thai), Retirement Visa (only available to those over 50) and, finally, the Thailand Elite Visa (officially the "Privilege Entry Visa").
I recently went through the process of obtaining the Thailand Elite Visa (Superiority Extension version) and want to share my experience, as well as thoughts about who it is good for and why I chose it.
Visa versions
The Thailand Elite Visa comes in 3 main varieties. You can read the full breakdown of benefits on the official website, but at a high level the options are the following:
Elite Easy Access – This membership costs 500,000 THB (~$15,000 USD) and gets you a 5 year visa, along with 24 free limo transfers a year for international flights at major Thai airports.
Elite Superiority Extension – This membership costs 1,000,000 THB (~$30,000 USD) and gets you a 20 year visa. It does not include the airport limo transfer service.
Elite Ultimate Privilege – This membership costs 2,000,000 THB (~$60,000 USD) and gets you a 20 year visa, along with an unlimited number of limo transfers for international flights at major Thai airports. It also adds complimentary spa treatments (24 per year) and golf green fees (24 per year). This membership also adds the ability for you to transfer (i.e. sell it to someone else if you move) for a fee.
There are also 3 family varieties of the card costing between 800,000 and 1,000,000 THB for extending the Elite Visa and benefits within a family.
All varieties of membership include a VIP greeting at the airport for arrival and departure, along with expedited passport control through a special line and airport lounge access. While you are still obligated to do 90 day reporting on the Thailand Elite Visa, Thailand Elite offers free agents that can handle this for you without requiring you to visit an immigration office.
5 year or 20 year?
The version of the Thailand Elite Visa that I chose to get was the Elite Superiority Extension.
There are several reasons why, for my own situation, the Thailand Elite Visa – and this version in particular – was an obvious choice – one I would make over and over again. I will try to outline these for anybody weighing the same choice:
I am 31 years old and so, given that I would qualify for the retirement visa (minimum age 50) by the time my Elite Visa expires, choosing Thailand Elite Superiority Extension provides me an essentially lifetime visa in Thailand for a one-time fee.
Though I want to have Thailand as a base of operations, I also want to continue traveling at least half of the year. This makes other visas such as ED a no-go.
Because I travel so often, the VIP greeting and escort at the airport and the private/expedited passport control will actually save me a ton of time.
Given that the 5 year Easy Access membership costs ~$3,000/year and only lasts 5 years, I know I'd have an uneasy sense of "burning money" if I chose to leave the country for extended stretches (say, a year or two). This is not really at all a factor with the 20 year (and the fact I am eligible for a retirement visa by the time it expires). I can just sort of forget about it and just be comfortable to know I am always welcome.
I happened to purchase at a time when the Thai Baht was relatively weak against the dollar (around 33 THB:1 USD). Both the exchange rate and the price of the visa are not guaranteed in the future (price of the visa may well go up significantly, and the Thai Baht may well strengthen). I am pretty comfortable with both (exchange rate and prices) right now so it seemed a good time to lock them in.
In the past I looked into other economic visa/residence programs and at 1m THB (~$30k USD, roughly $1,500 USD/year), Thailand Elite compares extremely favorably. Portugal's "golden visa" (one of the most popular economic residence programs), for instance, requires a half-million euro investment in property in that country. Greece's analogous program requires a €250,000 investment. In both cases your purchase is also subject to a VAT of around 25%, so these programs are actually even more expensive than they appear on the surface. Of course you are getting a residence permit (that can eventually convert to citizenship) vs. just a visa, and also one within the EU (which confers certain freedoms), so it is not totally an apples-to-apples comparison. However knowing about such programs helps to put the price of Thailand Elite in context.
The Investment Visa in Thailand, while perhaps suitable for some, has a minimum investment of 10m THB or roughly $300,000 USD. You also miss certain privileges (like the expedited immigration and complimentary agent service for 90-day reporting) by having this visa.
Another significant reason why I chose to go with Thailand Elite which is less directly quantifiable is the pain of dealing with Thai immigration. In March (on the day I applied for my Elite Visa, in fact) I went to Chiang Mai immigration for a routine transfer of my 60 day tourist visa (from an old passport to a newly-issued one). This process, which I had been told should take no more than 10 minutes, took a full 2.5 hours.
Even prior to this, every interaction with immigration (obtaining visas, getting extensions, etc.) was a minimum 2 hour ordeal that often derailed an entire day. For many of us, if our time has any measurable value, when we add up the hours we spend dealing with immigration in a year (not to mention the anxiety of the uncertainty around tourist visas) the cost is way more than $1,500 annually.
The process
Obtaining the Thailand Elite Visa took 7 weeks from beginning to end for me. I want to highlight this point because there is a lot of old information out there on the internet indicating a much shorter turnaround time. Prior to 2019 turnaround could be as fast as 5 days, but since the introduction of stricter measures by immigration it is typically now around 6-8 weeks (and officially can be as long as 3.5 months). The bulk of this time is accounted for by a background check performed by immigration, which officially takes between 1-3 months (though anecdotally it seems to typically be completed in 3 or 4 weeks, which aligns with my experience).
I chose to apply online through the official website. You can also apply through an agent if you would rather have someone guide you more directly in the process.
After filling out the initial form on the website, you will be sent an email with a login link for your newly-created account. There you provide your basic information (name, address, occupation, passport number) along with a passport photo, scan of your passport and current visa.
After you do this a representative will manually review the information and documents and typically reach out by email within an hour to let you know if all the information is complete. If it is, they will tell you that your details have been forwarded to Thai immigration for a background check. This background check officially takes 1-3 months, but may be completed in as little as 3 weeks.
After applying on March 3rd, I finally received notice of approval via email on March 26th. Once you receive approval, your profile on the website is updated to reflect this status and will show a link to a payment page. You can pay via bank transfer or credit card (if you don't have a Thai bank account, the latter option will make more sense, as long as you have a card with no foreign transaction fees and a sufficient limit).
Once payment is received, you will receive an email notice with your new "Member ID number", and a representative from Thailand Elite's member contact center will reach out to arrange an appointment to have your Elite Visa (which is technically called the "Privilege Entry visa) affixed in your passport. If you arriving on an international flight then you can arrange to have this done at Suvarnabhumi, Phuket or Chiang Mai Airport. If you are already in the country and do not wish to leave in order to have the visa affixed, then you must do it at Chaengwattana immigration office in Bangkok (this is what I did). The soonest appointment I could get was 2.5 weeks from the time of approval, but I understand this is longer than typical.
Visa appointment
Typically Thailand Elite will ship you a welcome package which includes your card (and some other, very random things: gold USB key, luggage tags, a pin and a leather wallet in my box). Because I wasn't sure of exactly what my whereabouts would be in the weeks preceding the appointment, they instead arranged for the Elite Personal Liaison to bring the welcome package to me when I went to Chaengwattana immigration for my appointment.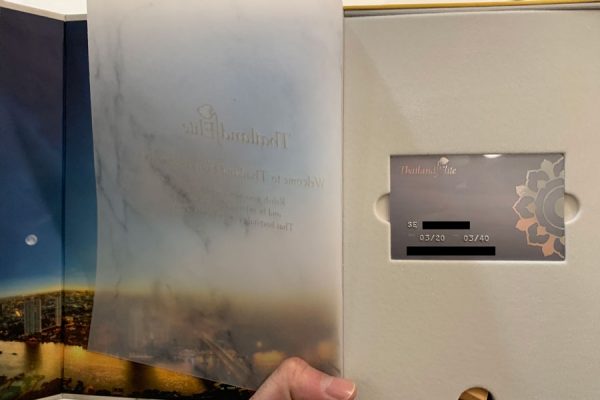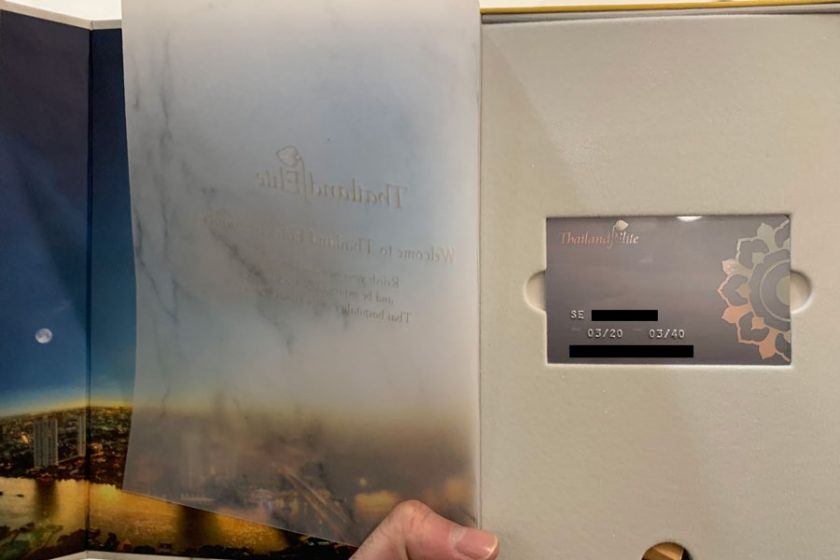 The appointment itself was very smooth. The liaison arranged a meeting point in the Chaengwattana immigration office lobby, took my passport and TM30 document (which you request from your hotel/apartment) and just told me that she would call when everything was done. In my case it took about an hour, during which I went off for a coffee.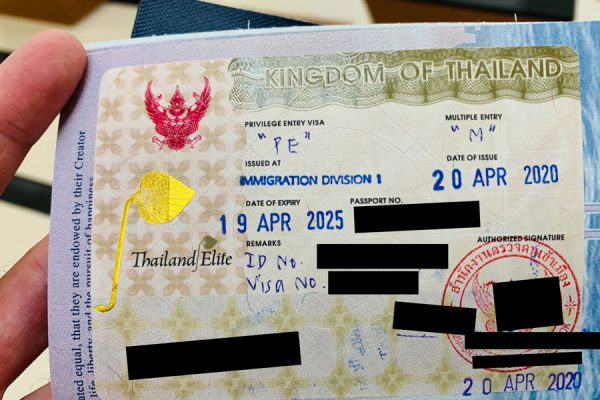 Am I satisfied?
In short, yes. As many long-term expats/travelers who spend time in Thailand know, dealing with immigration is a constant chore, and it has only become more difficult and stressful as of late. The rules are always changing, and waits can be unpredictable and sometimes agonizing. If you're on tourist visas but have any roots here, I believe that the certainty that comes with something like Thailand Elite and the Privilege Entry Visa is alone worth the price. While I do not make light of the expense of these visas, I also feel that the sums of money are in fact achievable for many. Furthermore, in my opinion it is truly an investment that, for many of the people who might consider it, will balance out relatively quickly when factoring in the time and stress saved, as well as the relatively low cost of living in Thailand.
Dealing with Thailand Elite was always a stress-free experience. Any email I sent would usually be followed up with an email or call within minutes.
For me, given my age and my priorities, this choice made a ton of sense and I am satisfied. If you have a similar outlook and similar priorities but hadn't yet considered it, I do think Thailand Elite is worth a serious look.