Those who know me well know that one of my most beloved pastimes, odd as it may be, is meeting strangers and trading stories in a friendly local dive bar. Having not had much of a permanent residence for the last year, getting to know staff and regulars at dive bars has been an important part of feeling like I belong wherever I am. In the interest of perpetuating the good vibes, and easing the work of others who might be on the same quest, I wanted to highlight my favorite dives in the cities I've stayed. As I spent about 5 months of this past year in Berlin, and had plenty of time to appreciate and settle into many of the city's dive bars, this first installment will focus on Berlin. Here are some of my very favorite dive bars, by neighborhood.
Neighborhood: Mitte
Schokoladen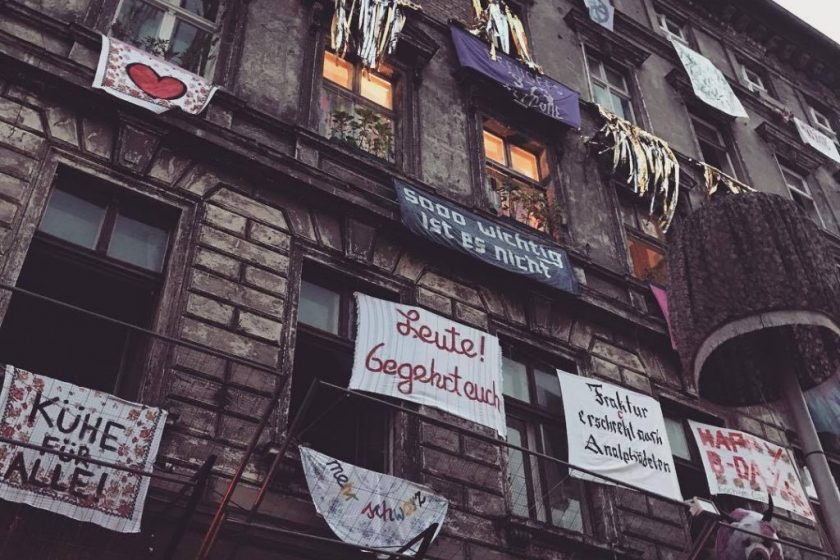 Schokoladen is a bar that completely defies its situation in the relatively upscale Mitte area, where I was living for most of my time in Berlin. You can spot Schokoladen from Torstrasse at Ackerstrasse (a block south of Rosenthaler Platz) by looking for the big lamp shade over the streetlight. For a long time I thought this bar was called "The Golden Acker", because that's what the sign out front says.
The bar has been at this location since 1990, which goes some way to explaining its seemingly odd fit for the neighborhood. If I had to class Schokoladen by its clientele, I'd say that it's a decidedly punk/metal bar. The patrons are overwhelmingly punk rock types with long hair and tattoos. The music is mostly metal/punk/rock and sometimes quite esoteric. The interior is black and smoky. Sometimes you'll find the odd dog laying around.
The space is divided into 3 parts. There is a stage in the front room, a bar area in the middle room, and an area with a foosball table and couches in the back. They hold shows at Schokoladen some nights, but by 11pm the stage has usually been cleared out and turned into another seating area. Half-liter bottled beers including Augustiner and Beriner Pilsner can be had for 2.20 to 2.50 EUR. This is a bar I prefer to come with friends. The volume level is on the loud side and the crowd a bit foreboding for me to be striking up conversation with random strangers.
KIM Bar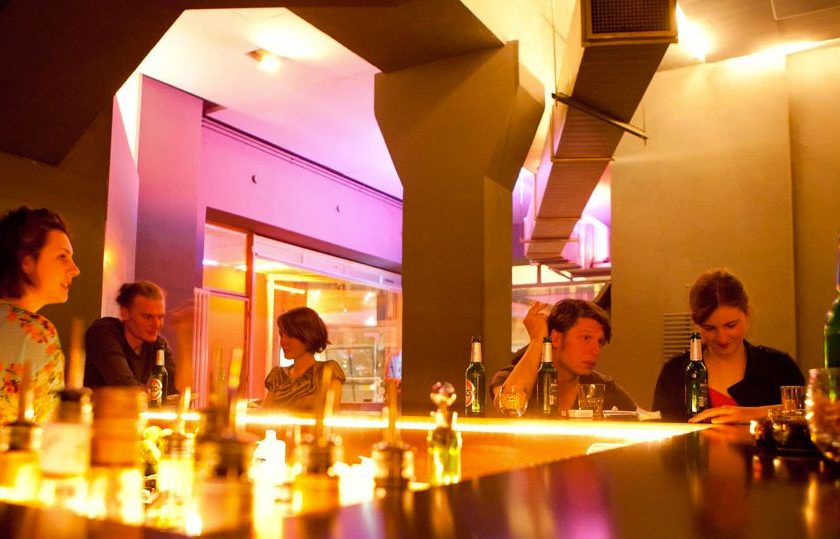 You can find KIM Bar on Brunnenstrasse, about a block up from Rosenthaler Platz next to the much more upscale Bar Milano. I always found KIM Bar to have a great balance of friendly bartenders, a manageable volume level, great music (lots of 70s rock like Steely Dan/Alan Parsons), and a good bar setup and crowd for hanging out alone and making friends. There's also a private mezzanine with room for maybe 8 or 10 people if you are with a group and want privacy. The clientele is a mix of established locals and tourists. The bar's situation off of Rosenthaler Platz and near the famous Circus Hostel means parties of young travelers will often flow through. I've noticed the crowd here tends to come in waves. I've spent many nights among just a couple of people for hours, to have it suddenly become packed to capacity within a space of 30 minutes. Overall KIM is a very comfortable local bar worth checking out if you find yourself in Mitte.
Neighborhood: Prenzlauer Berg
8MM Bar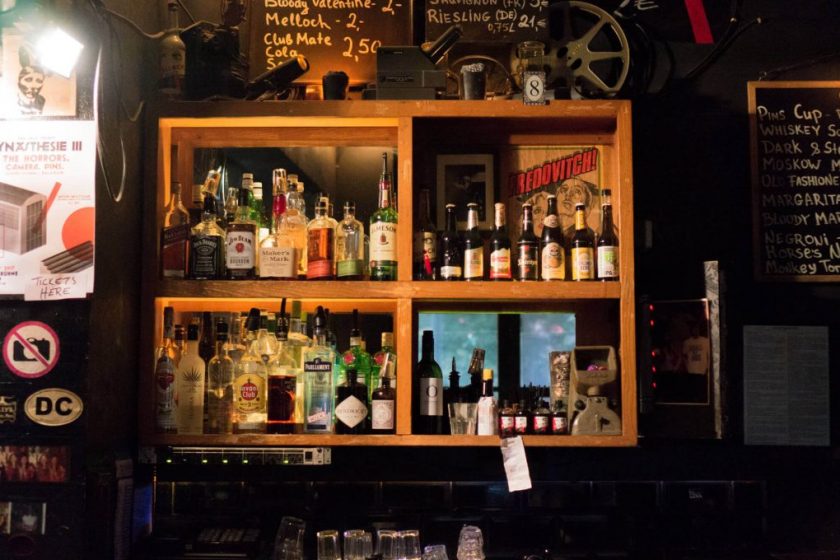 8MM Bar is about 5 minutes up Schönhauser Allee from Torstrasse (within eyesight of the Senefelderplatz U2 stop). It can be walked in about 10 minutes from Rosenthaler Platz. The first thing I ever knew about 8MM Bar, thanks to my friend, Zac, is that Anton Newcombe, singer from the Brian Jonestown Massacre (and subject of the rock documentary Dig), lives upstairs from the bar and is a frequent patron. The main bar area is a big black room. As the name suggests, there is a film motif, with film reels and posters on the shelves and the walls. Periodically there is a DJ (though the music is never overwhelmingly loud) and a projector that sits in the DJ booth runs silent video all night on one of the far walls. The crowd seems to be a mix of locals and foreigners. Prices are around 2.50 EUR for beer, and they do good cocktails as well. It's a good bar to go to both alone and with a group when you're in or near Prenzlauer Berg.
Neighborhood: Kreuzberg
Fuchsbau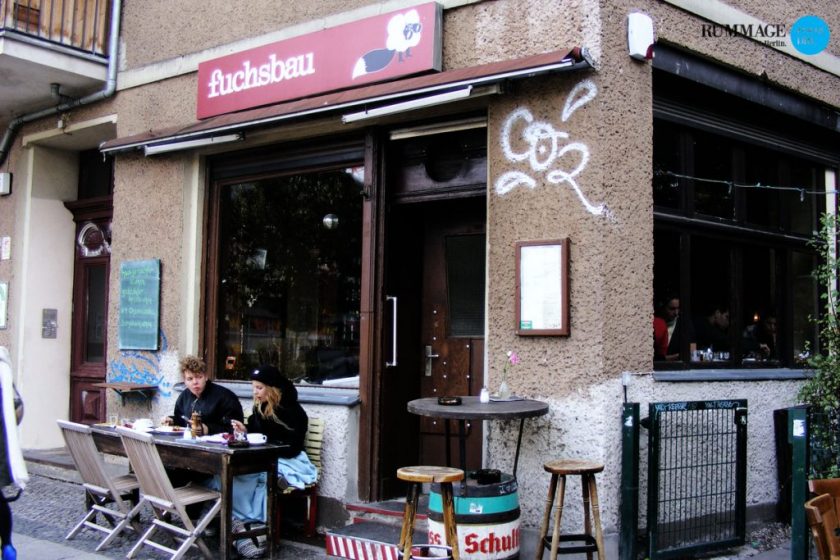 Fuchsbau sits right on the Landwehr Canal near Kottbusser Damm (right beside the bridge). It's a short walk from both the Kottbusser Tor and the Schönleinstrasse U8 stops. Prices are reasonable at around 3.20 EUR for a large Lech or Pilsner Urquell beer from the tap and around 5-6 EUR for wine and cocktails. Fuchsbau is a favorite place of mine to go in late afternoons when the weather is good. There is a great outdoor garden/patio within view of the canal and it is also usually relatively quiet earlier in the evening. That said, it can also be a fun, rowdier place indoors later into evenings. The bar area itself is small however, so this is a better place to come with a group and get a table.
Trinkteufel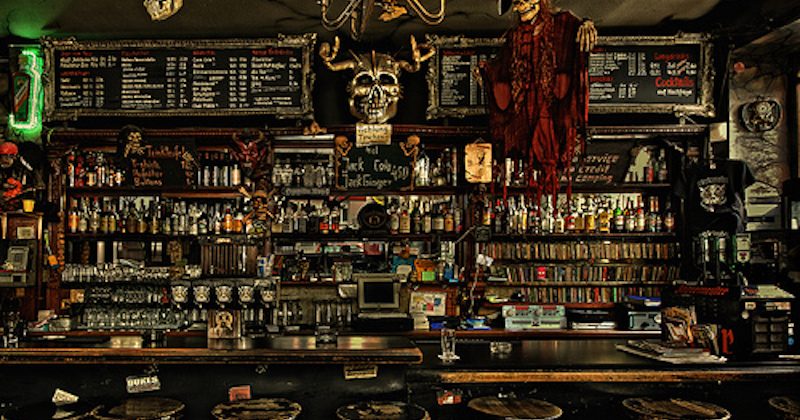 Strange things seem to always happen at Trinkteufel. The bar welcomes all, which ends up including self-talking schizophrenics and those coming off multi-day hallucinogen benders. I've shared drinks with some serious characters at this bar, but always have a good time. Officially the motif seems to be punk rock, and there is reliably a lot of local clientele in this mold (mohawks, scalp tattoos, piercings). The location is very convenient if you find yourself out at other spots in the Kottbusser Tor area, as it's just 2 blocks up from the U8 station. The bar area is big, and drinks are pretty cheap at around 2.20 EUR for an Astra or a Rothaus Pils.
Würgeengel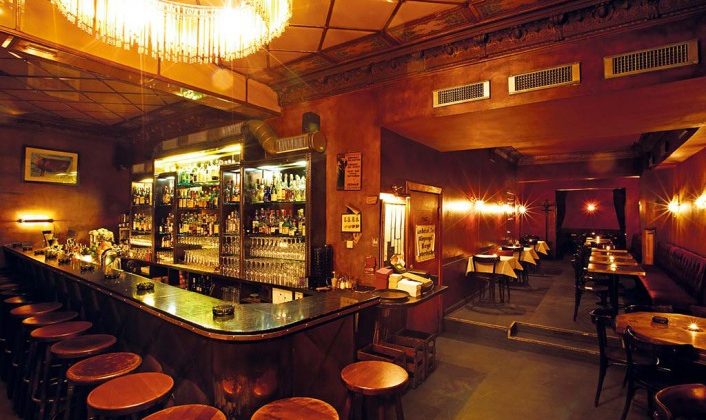 Würgeengel sits on Dresdener Strasse, the alleyway beside Adalbertstrasse just off of Kottbusser Tor. The bar is dark with red walls and cocktail lamps on the tables. The waiters and bartenders wear traditional cocktail attire – buttondowns and ties. Beers are around 3.50 EUR and the cocktails, are on the pricier side at 8-9 EUR, but very much worthwhile as both ingredients and preparation are top notch. Because there are typically only two bartenders servicing both the large bar area and two rooms full of tables, you can sometimes find yourself waiting a bit if you are going for cocktails and at a busy time. You can mitigate this some by starting off with a beer and getting your cocktail order in before you really need it. Overall I love Würgeengel as a slightly classier, yet still decidedly divey option when in Kreuzberg.
Neighborhood: Neukölln
Ä Bar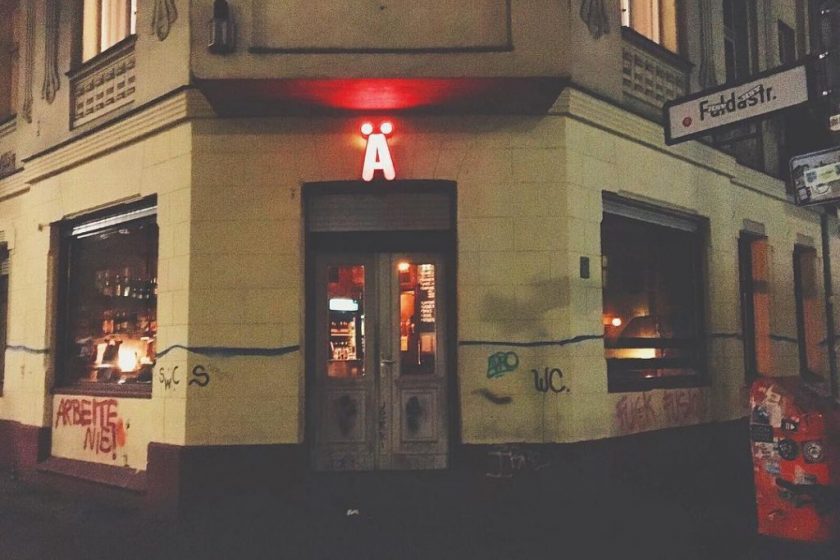 Ä Bar is a fantastic and well-loved bar on Weserstrasse at Fuldastrasse in Neukölln. It is walkable from both the Rathaus Neukölln U7 stop and the Hermannplatz U7/U8 stop. It is comprised of two large rooms filled with tables and couches. The front room is non-smoking and the rear smoking. There is also seating out front on the street earlier in the evenings when weather permits. Sonnen Pils is usually my drink here as it is the only bar in the city where I've found it and it's pretty cheap at 2.50 EUR. The staff is fantastic, and the crowd skews more local than tourist. The layout, with a very small bar that is essentially only a counter to pick up drinks (no seating) means you are probably best off coming here with a group rather than alone. With the big couches, good music, cheap prices and chilled out atmosphere, this is a great bar to settle into for many, many hours with friends.
Geist im Glas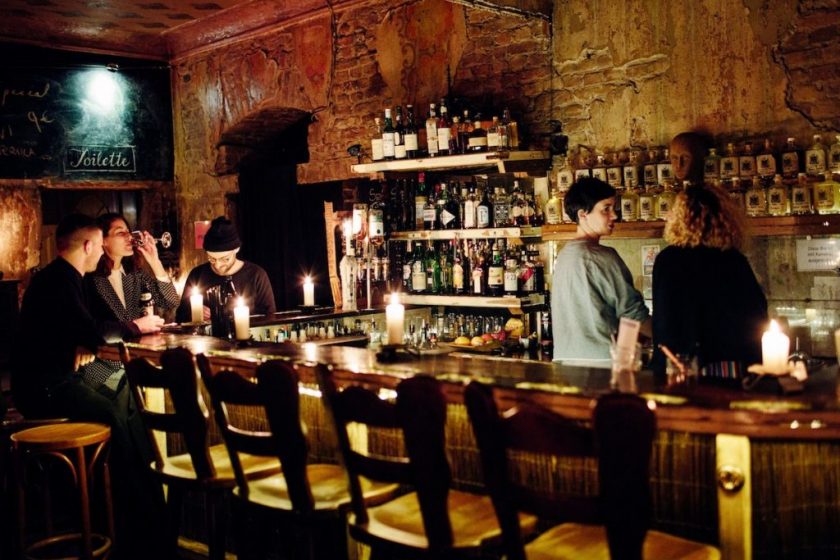 I owe it to my friend Zac for introducing me to Geist im Glas. The bar is on Lenaustrasse just off of Kotbusser Damm, a short walk from the Schönleinstrasse U8 stop. It's on the smaller side but the drink selection and the staff are both top-notch. The beer selection is good and reasonably priced – a half liter Augustiner can be had for 3.50 EUR. The real highlight however is the rotating list of house-made infused liquors. My first trip to Geist im Glas we had an incredible house-made jalapeno infusion. The bar is a fine place to come either alone or with friends. It never seems to get too rowdy, and I've never struggled to get a seat. Though technically in Neukölln, Geist Im Glass is close enough to the canal/Kottbusser Tor area that it can fit nicely into a larger Kreuzberg/Neukölln bar circuit.