I spent the month of January 2020 in Da Nang, Vietnam, a beach city situated in the central coast of the country, roughly halfway between the capital city of Hanoi to the North and Ho Chi Minh City to the south. It seems people haven't yet written much about Da Nang from the perspective of a long-term traveler, so I wanted to share some impressions and thoughts on my time there.
Great Access
I was coming to Da Nang from Rome, Italy and expected I would have to make a stopover in Hanoi or Ho Chi Minh City but this was not the case. An increasing number of airlines have flights into Da Nang International Airport (DAD) including Qatar, which I was flying, and that has direct service from Doha. Furthermore, a very striking thing to me was how convenient DAD airport is – it is only a maybe ~10 minutes', few dollars' drive from the beach neighborhood in which I was staying. Typically, when you have an airport so conveniently located, you also have a lot of airplane noise (cough, cough…Chiang Mai…). That is surprisingly not the case in Da Nang.
Vibe
One thing that you will immediately notice in Da Nang is that everything is under construction. I have traveled a lot in the developing world and am not sure I have encountered the level of construction anywhere that I encountered in Da Nang. If you're sensitive to it, make flexible plans  (like a few nights' non-committal hotel stay) so that you have the freedom to find yourself some place sufficiently peaceful (as I eventually did, with a great 26th floor condo that was pretty quiet). It does lend a certain mood to things, constantly walking past rubble, however I would also not let it keep you from coming – it is more just a peripheral/background sensation that gives a certain tone to the place.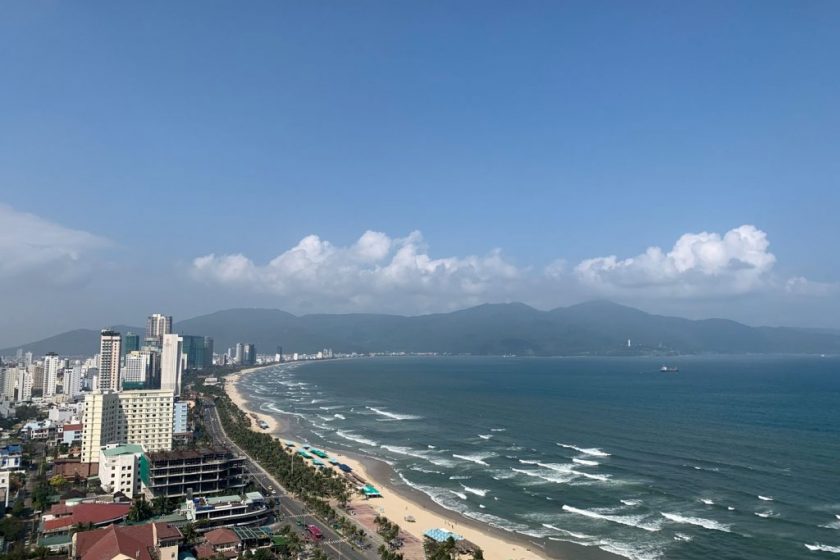 On the advice of my friend Steve I eventually settled in the My An neighborhood. This neighborhood runs right up to the beach (and indeed my apartment, though a bit set back, had a fantastic beach view) but is also full of good spots to go for coffee, drinks, etc. One thing to note about the beach is that, while it is right there, it unfortunately has a big, busy 4 lane road separating it from the buildings beside. If you have a fantasy of living right on the beach, walking from your door into the sand and going for swims, this is not exactly how it will be for you in Da Nang. Also, while I surf, and did see people go out surfing, at least in the area of My An where I was the break was not very nice – a mushy beach break, usually blown out by the wind very early.
Still, it is nice to have the option of the beach. Worth a mention is a fantastic little beach shack bar I stumbled on a few doors down from the (much more popular) Apocalypse Beach Club, called Danabeach Villas Bar. This bar, situated in a disused old bungalow-style hotel (which I heard was shut down because the land has been bought for development, so who knows how long the bar will be there unfortunately…) is a great place to watch sunsets, have a cheap pina colada or a beer, and make friends.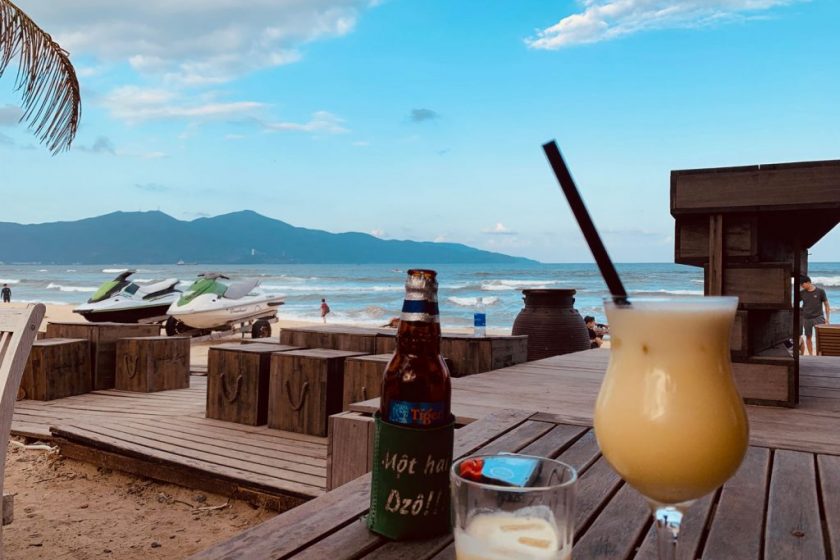 Nightlife/Fun
While Da Nang is certainly very laid back compared to Ho Chi Minh City or Hanoi, there is still a nightlife and you can stay out all night if you want. Those who know me know that I gravitate to dive bars and craft beer places more than clubs, so that is mostly what I got to know in Da Nang. Particularly worth a mention are N Pub (very cheap expats' bar in central My An), 7 Bridges (taproom for a Da Nang based craft brewer, very friendly staff and lots of interesting beers to try), Filling Station (another dive bar, but one that stays open until 4am vs. a standard 1am for most). Any discussion of the nightlife around My An would also not be complete without referencing Shamrock Sports Bar, a 24 hour Irish style sports bar. Even living the way that I do, I have apprehensions about such a thing (I am proud to say at least I never saw daybreak there…)
Value
How are prices  in Da Nang? By a western standard extremely affordable, and as far as more local comparisons, I would say maybe 35% cheaper than Ho Chi Minh City, which is already a place of good value for a western traveler. I put myself in a very nice Airbnb for around (high floor, ocean views) $38/night with no commitments or long-term discounts. My friends who were committed beyond a month were able to get nice, modern apartments near the beach in My An for around $350-$400/month, and I am sure even better value can be found if one looks into it enough. You can get a local meal like Com Ga (chicken rice) or Pho for 40k VND ($1.72) or less even in a nice neighborhood. A local beer is between 20k VND ($0.86) and 30k VND ($1.29) in most of the aforementioned pubs.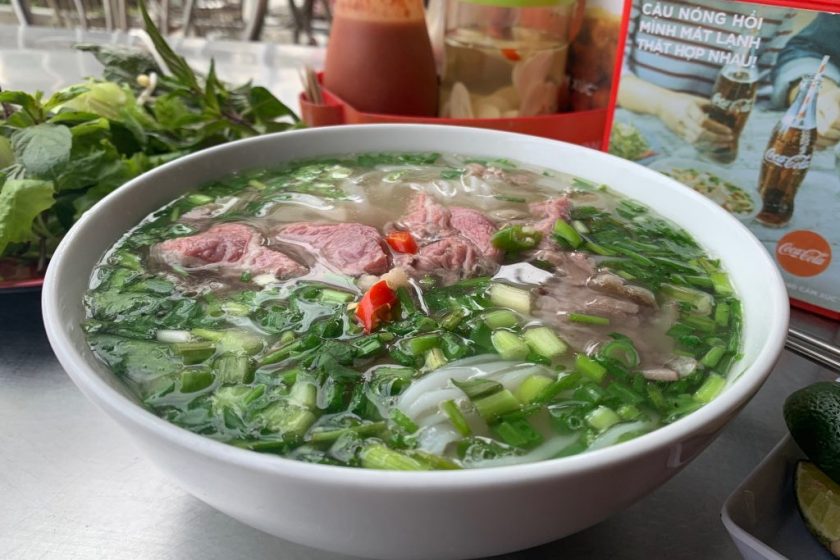 The Chiang Mai of Vietnam?
Here is something worth discussing: is Da Nang "the Chiang Mai of Vietnam"? A few weeks prior to showing up in the city (immediately before my trip to Rome) I had been in Chiang Mai, Thailand, a sort of epicenter for the digital nomad movement as well as an established retirement destination for western people of such age. There is some overlap certainly in the type of expat you find there – I in fact randomly crossed paths with at least four friends I had met in Chiang Mai. Foreigners have been, over the last couple of years, having a harder time staying long-term in Thailand because of reforms that are limiting how many times you can re-enter the country successively on tourist visas or visa exemptions. I gathered that a sort of rumor was going about that Da Nang is the Chiang Mai of Vietnam.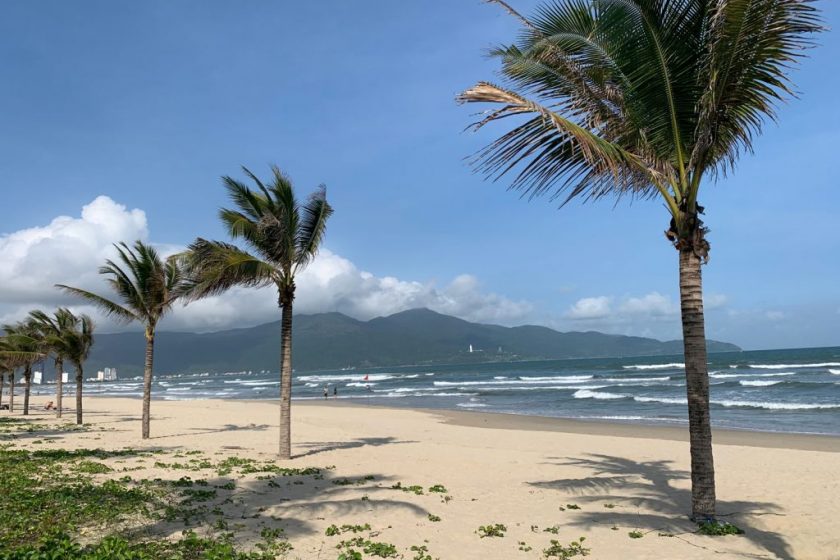 Furthermore there is an impression that while Thailand is tightening down on foreigners, Vietnam is opening up. Vietnam, for example, has for the last few years been offering a 1 year multi-entry tourist visa for Americans for something less than $200. While I was in Da Nang however, news came through the expat community that as of July 2020 Vietnam will actually be requiring foreigners on any type of tourist visa (including the 1 year multi-entry) to leave and re-enter the country every 30 days. Assuming that this policy goes into enforcement, it will actually make Vietnam arguably a less accommodating/welcoming place even than Thailand for the long-term traveler. So we should sit tight and see what happens here…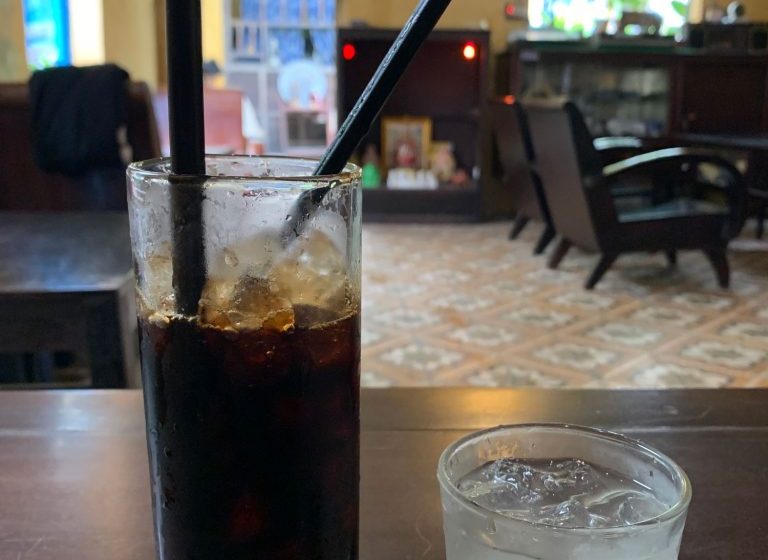 As for whether Da Nang is really the Chiang Mai of Vietnam, I would say that, while I can see why people might make that case (i.e. it is a smaller city, a bit removed from the major economic centers, with good value and a relaxed pace of life) I would also say that to me I don't really agree. The vibe is just very, very different. In the same way that, naively, you might say "Ho Chi Minh City is the Bangkok of Vietnam", it just couldn't be more wrong when you're on the ground. The soul of the places is not the same. I would peg Da Nang, if I am completely honest, as a bit more dull, a bit less livable. I could certainly see going back to relax, be by a beach, but I couldn't really see making it a long-term home.